Black Jack is Callie's Morab gelding. He is the calmest horse in the stable and when he's under the saddle, he anticipates almost all of Callie's commands, making the pair tough competition. Black Jack and Callie shine in dressage and they move with rhythm and grace, which is probably why Mr. Conner considers them one of the best pairs in the stables.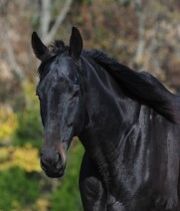 Ad blocker interference detected!
Wikia is a free-to-use site that makes money from advertising. We have a modified experience for viewers using ad blockers

Wikia is not accessible if you've made further modifications. Remove the custom ad blocker rule(s) and the page will load as expected.